Chattahoochee River Fishing Guide
It's a beautiful sunny day. You're stuck at work but your mind is miles away where you're standing in a cool Georgia stream casting your line. There's something peaceful about fly fishing. There's nothing like it- especially when you get a strike and pull out a big beautiful trout. Is this the trophy fish you've always wanted? Maybe not, but it really doesn't matter.
No phones. No internet. No computers. No stress. Just casting, catching and releasing. Trout fishing at its finest. It's really the recipe of a perfect day.
Whether you want a day trip or something longer, our fly fishing guides will take you fly fishing where they're biting. We have a number of different fishing trips available.




Best Fly Fishing Guide
Believe it or not, there are many people out there who have never been fly fishing. We'll excuse them for the time being as they become acclimated to our ways. In fact, when people picture fly fishing, some immediately go to the movie, "A River Runs Through It". Some think of big game fishing, but our fishing guides can arrange a variety of different fishing trips for you from day trips to fishing vacations. When it comes to fly fishing for the beginner, the fishing guides at The Field And Fly have you covered.
At The Field And Fly, we'll walk you through everything you need to know about fly fishing. From fly fishing for beginners where we'll give you lessons to fly fishing tips for the more experienced fisherman, we'll help build your confidence. After one trip, you'll leave with a glance into a world you've only hoped existed- a world where you can finally relax and just be. We just may have the best fly fishing in Georgia.
Corporate Fly Fishing Trips To Get Ahead At Work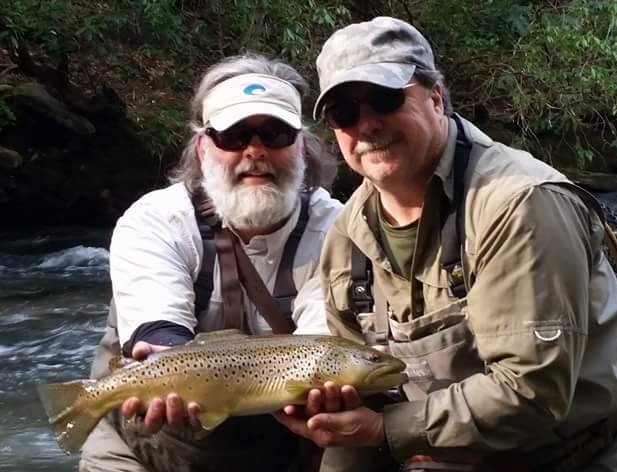 For most of us, it's only a dream to combine something we love with something we love to do. Said another way, many of us wish we could get paid to go fly fishing. Well, we've figured out a way to make this dream come true.

Think about it. You have an important potential client that you've been courting for weeks or maybe months. You like the guy, but you haven't been able to get him to the corporate dance floor yet. It's simple. Ask him to join you on a fly fishing trip. Tell him you know of a great place to go fly fishing and you were planning on going to get away for a half day. Consider what can happen from there.

You and your prospect hire our fishing guides and we take you to some special places we know. It's quiet as you wade in and start casting. It's just the two of you as your guide gives you some space to talk. Maybe you chat. Maybe you don't. You'll read it right. Either way, who is he going to think of when it comes time to make a decision about vendors?



Fly Fishing Gifts

If you have that certain man in your life that seems hard to buy for but loves the outdoors, browse our fishing trips and give the gift of fly fishing. If he's ever dropped a hook in the water, he'll love the experience that our fishing guides can provide.

We often partner with the local company, "River Through Atlanta" where we'll take you out on a drift boat and do some trout fishing that way. We know all the great spots and can give you fly fishing tips that might just help you land your trophy fish.

We have people interested in fly fishing coming from all around Atlanta, people in town on business, tourists from Alabama, New York and North Carolina. We even had one angler come in from Europe just to have our fishing guide take him on a day long trip!

Browse all the fly fishing trips we have available, and if you don't see something you like, give us a call. We're willing to customize your next fishing trip. Step away from the smart phone and come enjoy the joys of fly fishing gifts today.